Irrigation & Water Management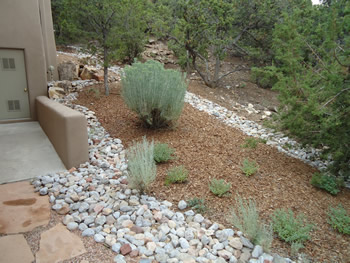 An irrigation system is key in helping your landscape looking its best. We will help you find the best solutions to help keep your plants, trees and grass healthy while conserving our most precious resource—water.
If you are interested in an irrigation system, a rain water catchment system or greywater reuse we can consult and help you choose the right solution.
Our Water Management services include:
French Drain/Wick Installation
These drains are very effective to redirect rain gutter downspouts or surface and ground water away from an area and/or towards your plants and trees.
Storm Water Management
Stormwater is excess rainwater that flows from rooftops, roads, driveways and other surfaces. Sudden heavy downpours of rain can cause harm to the foundation of your home and landscape. We employ various techniques that slow and/or redirect the water to where it's best used or store and recycle for landscape irrigation use.
For more information about our services, contact Native Earth Landscaping, LLC today!